Programs
In addition to our ever-changing program of current repertoire, Rani Arbo & daisy mayhem offer three programs. American Spiritual is a joyous concert of uplifting and reflective songs from gospel, blues, and modern songwriter traditions.  Wintersong is a holiday program that explores the reflection and celebration at the root of Christmas, with old carols, new settings of hallowed winter poems, modern songs, and wild New Year's shouts from the Georgia Sea Islands and Louisiana.  Last but not least, Ranky Tanky is a playful and participatory program for young audiences, with songs from Cat Stevens, the Funky Meters, Tom Petty, Nat King Cole, Pete Seeger, and others.
American Spiritual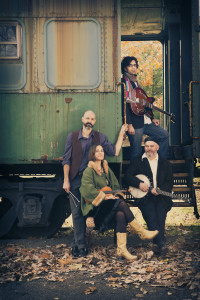 Music is powerful alchemy. In one moment — by the kitchen radio, in church, in the car, in a concert hall — music can rewire our spirits. It soothes pain, magnifies joy, gives company to loneliness, and connects us. Miguel de Cervantes wrote, "He who sings scares away his woes."
In American Spiritual, Rani Arbo & daisy mayhem lead concert audiences in a bona fide revival. There's no tent, no potluck dinner — and no preaching, unless you count the band's uproarious and wise stories. Instead, this charismatic quartet administers songs and tales that explore and revive the human spirit. From a lush setting of Tennyson's "Crossing the Bar" to prison work songs, blues, gospel and original compositions, American Spiritual draws from 200 years of roots music to find songs that uplift and connect.
With infectious camaraderie, Rani Arbo & daisy mayhem easily coax audiences to join their spine-tingling, rafter-shaking harmonies, clap to roaring fiddle tunes and open their hearts to songs of love and loss. This is American Spiritual — in which big questions are asked, few are answered, much harmony is sung, and a joyful string band is let loose to dispense its good medicine.
Listen to songs from American Spiritual
Wintersong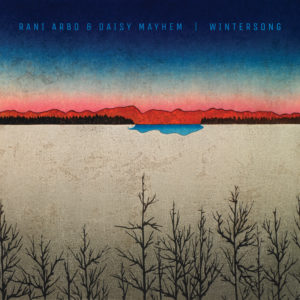 We New Englanders have two primary coping mechanisms for wintertime: introspection and celebration. We hole up and reflect on our lives, and then we let loose and party. Rani Arbo & daisy mayhem's Wintersong program does both, swinging from a 15th century carol to fiddle- and percussion-driven New Year's shouts from the Georgia Sea Islands and Louisiana, to bluesy and banjo-driven settings of modern songwriters — and then back, to original settings of verse from Tennyson, Chesterton, and Longfellow.
There are songs about a baby born in Bethlehem, including the electric guitar-driven "Let's Make a Baby King" (by Jesse Winchester), a soaring version of the spiritual "Children, Go Where I Send Thee;" and "Singing in the Land," an Appalachian hymn in four-part harmony.  There are also songs about love and war, loss and hope. There are songs about the emptiness of commercial Christmas, and the fullness of the ideas that brought it to be.
Rani Arbo & daisy mayhem's Wintersong program sidesteps the holiday canon and digs up the power, beauty and hopeful yearning at the roots of this holiday. These are songs — and musicians —full of fierce poetry and wild joy; this program is their ode to light and dark, and to the balance of both at the turn of the year.
Listen to songs from Wintersong
Ranky Tanky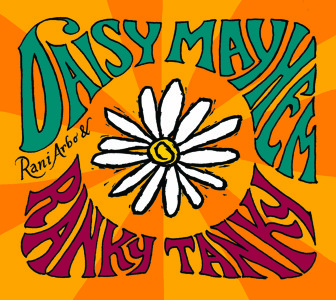 Take a rollicking, first-class ride through American roots music! Based on the band's award-winning* 2010 CD, Ranky Tanky, this musical journey stops at the Georgia Sea Islands, the Appalachians, a Mississippi blues joint, a Texas dance hall, a New Orleans parade, and more, as kids soak up the sounds of fiddle, guitar, bass, percussion and vocal harmony.
During a Ranky Tanky show, children are invited to sing, clap, dance, suggest ideas, and answer questions about what they see on stage. Between songs, Rani Arbo & daisy mayhem talk about the songs, instruments, and styles they play, but it's no lecture — it's more like four cooks crowing over ingredients for a favorite musical stew. And, as they're grooving a capella on a pop tune from the Bahamas, showing off the drummer's 100% recycled drum set, or serenading a birthday boy with a turkey-baster whistle, they also like to show kids that you don't need fancy stuff to make great music.
The Ranky Tanky show is best suited to children aged pre-K through 3rd grade, but can be adapted for grades K-6.  For older children, the band tailors a more in-depth conversation about instruments, musical influences, what it means to be a band, and more.
To build on the show experience, percussionist Scott Kessel offers Recycled Rhythms, a 45-90 minute workshop suitable for grades 1 to 12. Participants make a wooden harmonica and a recycled drumset, then play rhythms from around the globe.
For a band bio, tech sheet and photos for the family show, please visit the Promoters' Toolkit.
Praise for the family show and CD
Listen to tracks from Ranky Tanky
* Ranky Tanky won lots of awards!
Parents' Choice Foundation Gold Award, 2010
National Association of Parenting Publications Gold Award, 2010
American Library Association Notable Recording, 2010
Oppenheim Toy Portfolio Platinum Award, 2010
Boston Children's Music Award 2010